Our Foundation/Our Story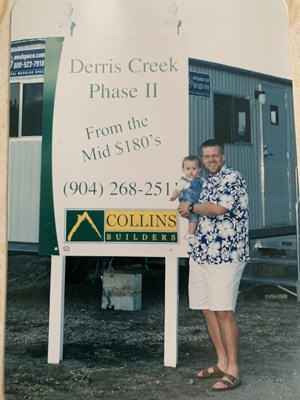 Since 2003, Collins Builders has been building homes in Northeast Florida with a commitment to quality craftsmanship and customer service. For 17 years, that commitment has translated into hundreds of satisfied clients who are proud to call their new house their home.
Founder Ashley Collins started Collins Builders with experience gained growing up in the home building business working for his father's company. During this time, he learned the value of family, faith and service to others - all principles that drive us to this day. Clear and timely communication with clients and trade partners is an essential tenet of our business. We go above and beyond to facilitate trust, transparency and accountability by bringing in-house as much of the homebuilding process as possible. We feel this ensures timeliness of all parts of your project with an entire team with assured expertise working together under one roof with no barriers to communication.
We also use the latest technology for scheduling and managing important documentation and that you, as our client, are kept abreast of progress and involved in your new home's progress. Collins Builders is one of a select few homebuilders in the area offering 3D technology to bring your home to life right in front of your eyes. Our architectural design team specializes in technology that allows our clients to envision the outside and inside of their new home, visualize spacing, how your furniture can be placed and how a home "feels" before construction ever begins.
At Collins Builders we are protective of our client's experience and pride ourselves in being trusted advisors and a resource for every aspect of the homebuilding process – from advising on the purchase of a homesite all the way through warranty. Our desired result at Collins Builders is to build a home that clients are completely happy with and can build joyous memories in; our blessing is in homeowners walking away with a feeling that our company cares about and delivers on incomparable quality and customer service.