Testimonials
There is no greater satisfaction to us than to have happy clients. Our team is focused on and dedicated to a high level of customer service and quality that is second to none. Listen to what a few of our clients have to say about their experience with the Collins Builders team.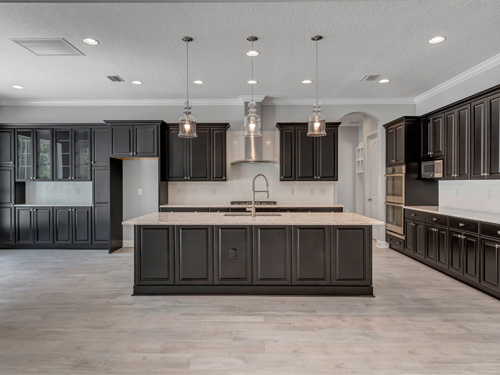 "The whole experience was professional and friendly from beginning to end."
I just wanted to write a few words about our experience with Collins Builders.
It started with Danny Britt, he was very patient assisting with our house plan choice, as well as, our multiple indecisive changes. Vicki was essential to our interior designs covering every little detail. We are delighted with the design choices she helped us choose. Jaymee kept us in check facilitating the paperwork, change orders, permits and closing. She explained the process and answered all our questions promptly.

Once we broke ground we were introduced to Dalton...over the next 7 months Dalton was our hero. We must have called him a hundred times with question after question about the contruction process. He always answered us in a timely and friendly manner. He was very attentive to our special needs and pointed out details we would have never thought of. He went above and beyond brainstorming, resolving, and transforming our home to work perfectly for us. My wife and I felt truly blessed to have Dalton oversee the building of our home.

Everyone at Collins were pleasant and exceptional at their jobs.

Thank you very much,
Duane and Cassandra Roberts
Sandy Roberts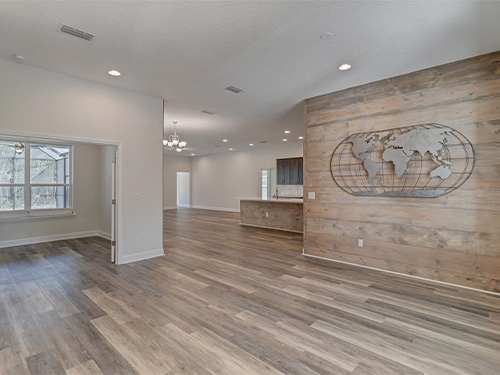 "Collins was 100% the right decision"
So this was our 2nd experience with building a home and Collins was amazing. We initially had our own plan but after meeting with the Collins Sales representative and walking a few of their homes in another community, we decided to go with a modified 2507 plan. From rezoning, survey, the foundation to finish, everything was done on time and under their projected budget. The job site was always clean and communication was regular. Someone on the Collins team was always available. Our new home is spectacular and took less than 5 months to complete. Sitting by our pool at night, enjoying having this awesome space for our 3 kids, we know that Collins was 100% the right decision. Hopefully, this is our forever home, but if not, our 3rd build will definitely be with Collins.
Mike Townsend
"Truly Pro's at what they do"
We would like to thank Collins Builders for the beautiful home that they have built for us and they were very professional and knowledgeable builder they kept us well-informed each phase of the project in meeting all deadlines in order to maintain the schedule of the build on time and on budget. The Quality of their Workmanship is Outstanding we could not have found a better builder then Collins Truly God sent Collins Builders as a Blessing to us for the building of our new home and each member of their team was always very professional and courteous at all times they are Truly Pro's at what they do. Thank you Collins Builders!
Ricardo Gloria Barksdale
"Honest & Trustworthy group"
Collins Builders was an honest & trustworthy group to work with when we built our new home. They were very knowledgeable and educated you along the way so you knew exactly what to expect.
Zach Melton
"I really enjoyed the experience"
I really enjoyed the experience and willingness that the team at Collins offered. They were great helping me through my deployment and keeping me informed of all that was going on with the house during construction.
Mr. Halladay
"I enjoyed the whole process with Collins"
I enjoyed the whole process with Collins.  They were available to answer questions throughout the entire process and willing to listen to all my concerns and explain the things I didn't understand.  I felt confident the information they gave me was accurate.  If I ever build again I will use Collins for sure
The Crawford's
"Their reputation of excellence precedes them"
Our Collins home turned out better than we could have ever imagined.  From start to finish everyone associated with Collins Builders went above and beyond to make sure our home building experience was enjoyable and went as smoothly as possible,  After working with Collins Builders we can clearly see what their reputation of excellence precedes them.  Our home was built with the highest quality and we would definitely use Collins Builders again as well as recommend them to our family and friends!
The Montoro's
"Well Built House"
Well built house. People pleasant to work with. Steve was Awesome.
The Asplen's
"Collins Builders delivered a quality product for my family!"
Collins Builders delivered a quality product for my family and worked with us to truly get us the home we desired. We felt we were part of the design process and had numerous options to work with. After meeting with several national home builders we felt comfortable and confident that our local builder at Collins would give us the best opportunity to build our dream home.
Patrick & Julie Melady
"I have built several homes over the years and working with your company was by far my best experience."
I wanted to express my gratitude for the beautiful home you built!  From our very first meeting to the last, I was impressed by your professionalism, insight, attention to each detail and overall expertise. Everyone who pulls into the driveway or walks through my front doors is in awe over the quality of your work. I would gladly recommend Collins Builders to anyone wanting to build a quality custom home.
Ken Milhorn
"I could not have asked for a better team to work with."
My wife Rae and I decided to build a new home in 2012. After researching and talking to friends we chose Collins Builders.  We met with Danny Britt and discussed what we were looking for in a home. From that point forward I could not have ask for a better team to work with. We never had any problem with getting answers to any question we may have had. I can not state strongly enough how pleased we were with the whole process. They made the whole thing a true pleasure for us. I can truly say Collins Builders built us a home not just a house. A special thanks to Ashley Collins, Danny Britt and Bobby Geisler.
Rae & Michael Kilpatrick Sr.
"Collins Builders went above and beyond"
Collins Builders went above and beyond throughout the entire home-building process. Each employee was knowledgeable, honest, and upfront about every detail. They made the process totally headache & hassle-free which is important with such a major purchase. Every step of the way, the designated employee was in touch and available at any time to answer questions and/or resolve concerns. Our project was completed in a timely manner and is a quality product that we're excited to enjoy and share with others for the rest of our lives. We LOVE our new home.
Shiela Jaramillo
"We would 100% recommend Collins Builders"
We had such a wonderful experience with Collins Builders, and everyone involved helping us build our forever home! At first, we were going to meet with them, and a few other builders, but they were the first ones we met with and right from the start we knew to just go with them! They are so warm and welcoming, and just all around great people. We never felt like they were just trying to "make a sale" with us, they truly cared about what we were looking for and to stick around our budget. They answered emails, and phone calls very promptly through the whole process as well! We would 100% recommend Collins Builders!
Chasity Moore
"We can't recommend Collins Builders highly enough."
We came to them with our own lot, and from start to finish, our home build went very smoothly. We choose one of their stock plans, which they modified tremendously for us. They listened to us through the entire modification process and made suggestions based on the questions and requests we made. The final plan was exactly what we had wanted and hoped for. They then walked the lot with us and discussed the placement of the house. Vicky then assisted us in ensuring that our designs and selections would all work together perfectly. Through the design process that Collins Builders has in place, we felt confident the house would be beautiful. As you would expect with a custom built home, we were able to select everything from light switches, floors, paint colors, door styles, hardware, plumbing fixtures, etc. Vicky walked us through the entire process and made sure we were able to participate in every decision.
However, for us, the star of the show was Matt Bullard, our project manager. Matt took such great care of our home, you would have thought it was going to be his. Matt did not miss a detail. He was so thorough, that I never had to worry about anything during the build. This is by far one of the best built houses I have ever seen.
My wife and I now have our dream home! But if we were to do this again, I would not hesitate to use Collins Builders to create, design, and build my home.
The Hays Family
"What an amazing team you have!!"
We just wanted to thank you for our beautiful home.

When we began this process we heard so many horror stories, that encouraged us to try to do this on our own and become our own GC, boy are we glad we didn't go that route!
We are so glad we were led your way by John Robinson, he was definitely a God send!

Now, can I brag about Dalton?
He did amazing job at communicating with us, and answering every little question that would occur to us.  He was patient and so so very kind.  I can tell he likes what he does and does it well!
He could tell I was a visual learner and wouldn't mind meeting with me on-site to make sure I understood what he was explaining!  I can most certainly say that was well beyond his job.

After being in our home 2 weeks, we had a small issue with our water pump, Dalton had already walked us thru any possible problem with could encounter and how to troubleshoot, I sent him a txt late at night.  He responded very early in the next morning.  We had taken care of the issue, yet he still came by and spend close to an hour making sure everything was working properly!!

We hope Collins Builders knows what an amazing asset you have with Dalton!

During this process we had the opportunity to engage with several of the Collins Builders team…. and may I say what an amazing team you have!!

Thank you so much
Will, Susanna, Stephanie and Elias Perez
"If I had to build another house, I would definitely go through Collins again."
Collins was a great partner to work with from start to finish. They were very patient and helpful in helping us decide on the right floor plan that would not only fit our needs but also the look and feel we were going after. Since they are a well known builder they also had experience building in the neighborhood we chose, which made the process of working with the HOA even more seamless.
In terms of actual construction and work, they didn't miss a beat and didn't fall behind schedule at all, even with Covid. We saw progress every week on not only the house but the property from the moment they started clearing to the final walkthrough. The Project Manager Matt Bullard was amazing to work with, and always available to answer questions and address any concerns or needs that arose. He has also been great to work with post build on any questions we've had.
If I had to build another house, I would definitely go through Collins again.
The Chiasson Family



Our Reviews
We are grateful to have happy customers.