The Collins Builders Experience
One of the reasons why Collins Builders has become one of the premier builders in Northeast Florida is that we do so much more than just build beautiful luxury homes. Our team of experienced custom professionals are here to guide you every step of the way, from initial vision to land acquisition, architectural design, interior design, construction, completion and on-going maintenance for years to come.
What this means is that you shouldn't wait to call us until you have complete architectural plans and a lot on which to build. The value we can provide multiplies if you bring us in from the start!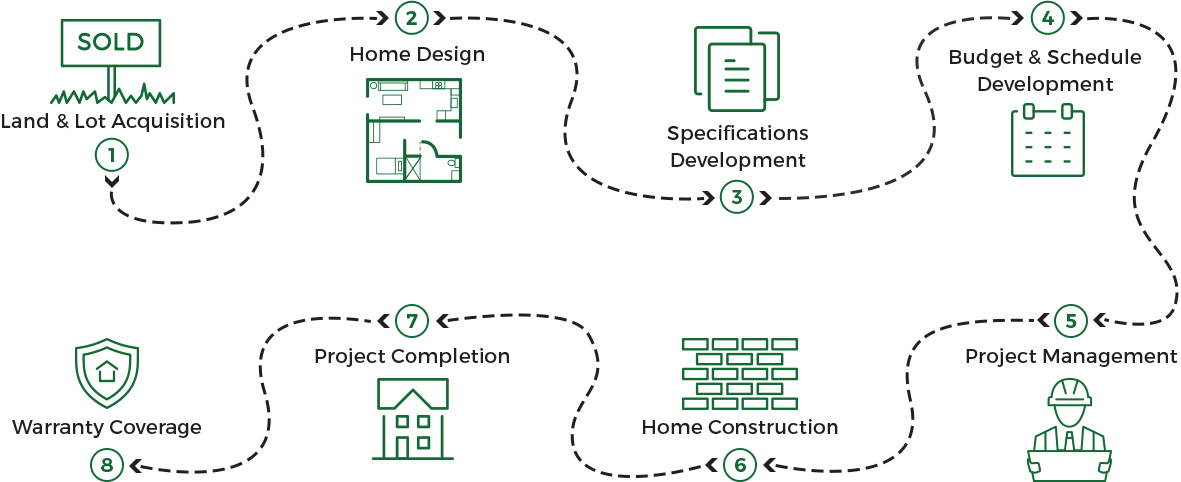 Land & Lot Acquisition
We use our long-standing relationships with local real estate professionals to help you find the perfect lot, and then be there to ensure the site really is perfect for your needs. To confirm that your desired project is feasible and meets your needs, we'll do everything from bringing in consultants (such as surveyors and soil engineers) and walking the site, to reviewing city restrictions, municipal easements and much more.

Home Design
As a luxury custom home builder, we recognize the need for a high level of customer service and have made considerable effort to provide top notch in-house architectural and interior design services. With the latest state-of-the-art technology at our disposal, we can cater to whichever desired level of architectural design that you desire. 2-D CAD, 3-D REVIT and Lumion Virtual design services are available to all clients. Once we are retained, we will collaborate closely with you to create a custom home that fits within all of your desired function, design and cost parameters.

Specifications Development
It's the details that separate extraordinary new home construction from ordinary new home construction. Our team will work closely with you to create a comprehensive, all-inclusive Specifications Manual, cataloging every component of the project—plumbing fixtures, cabinets, appliances, finish carpentry, paint colors and more.

Budget & Schedule Development
Our team will obtain subcontractor and vendor bids based on your approved Specifications Manual and approved final plans, and then confirm the overall budget for your project. Once your contract is executed, we will verify the final plans and begin the Interior Design and Selections process. In conjunction with Interior Design, our team will be working diligently to obtain all necessary documents to obtain your Building Permit.

Project Management
One of the many advantages of working with a general contractor that has a large full-time staff is that it's not just "one person trying to do everything." Once things are underway our Operations Manager will use specialized software to track all aspects of scheduling, providing you with ongoing updates as to where things stand.

Home Construction
We handle all aspects of construction, from serving as the point of contact for all subcontractors, consultants, vendors and city inspectors, to resolving issues as they arise. Construction will be overseen by your Project Manager, who will be on site daily ensuring all work is done to specifications, using the highest quality building materials and techniques.

Project Completion
Our in-depth project close-out process includes a full inspection by our Construction Manager, along with the final inspection and Certificate of Occupancy by your local municipality. Your Project Manager will join you for a detailed New Home Orientation one week prior to move-in to present the home to you and to explain the functionality of your new home components. Upon Final Presentation, you will receive a Comprehensive Close-Out Package with copies of your final survey, Certificate of Occupancy, manuals and warranties.

On-Going Care
Your relationship with Collins Builders does not stop on your move-in day. You will enjoy a full-coverage workmanship warranty during the first year after your home's completion and a two-year electrical and mechanical warranty, followed by a ten-year structural warranty for years two through ten. Contact us for your warranty service needs conveniently at warranty@collinsbuilders.net.