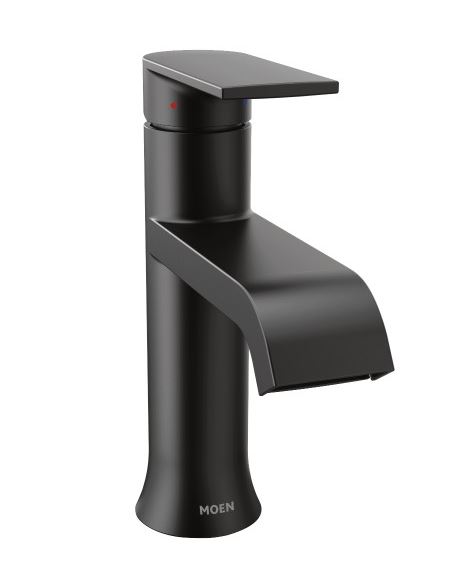 There are so many exciting new trends emerging in the design world right now. As plumbing, tile, and cabinet companies look at what is popular in other industries, fun and beautiful new finishes come out each year, ready to go in your new home!
Plumbing Fixtures
The faucet styles in our homes are heavily influenced by the automotive and appliance industries. We are seeing the warmer metals expanding to more and more lines, as well as matte black and chrome. Moen has released their brushed gold finish on the modern Align series, the vintage Weymouth series, and the transitional Voss series for the bath. Matte black is found on the modern faucet series like Align and Genta, but also on the farmhouse-inspired Waterhill collection.
The brushed gold blends beautifully with saturated cabinet colors like a deep blue or black as well as stark white. For a bold look, choose a dark wall color to showcase the gold faucets, or for a feminine boutique look, white cabinets with a blush pink wall are gorgeous. Matte black brings more of an industrial feel and works well with painted or stained cabinets. The combination of black with stained cabinets softens the look from contemporary to modern and is a great way to bring a unique touch to a farmhouse style or mid-century modern kitchen. Mixing white, black, and stained woods will never go out of style.
Appliances
Warm metallics, as well as matte black finishes, are very popular in kitchen appliances. Whirlpool has their sunset bronze finish which is not only beautiful but fingerprint resistant. This finish blends nicely with warm, rich stain colors and makes a bold statement when paired with black or blue painted cabinets. Matte black and black stainless finishes lend a sleek, modern touch to any kitchen, and look great with the new black faucets and cabinet hardware available.
Besides exciting new finishes, new cooking technology is also available that turns your ordinary kitchen into a chef's kitchen. Steam ovens use the power of steam combined with convection to create restaurant-quality dishes that retain the nutritional value of the food. Modular appliances are also becoming popular as they allow you to have fryers, induction or gas cooktops, steamers and more in a 15" space instead of having to purchase larger appliances. Drawer microwaves are fantastic for allowing you to have a full-size appliance without taking up counter space. They are also safer for food preparation as you are lifting the hot items up to the counter instead of down from over your head.
Paint Colors
Deep, full-bodied colors are trending up in home décor as well as cabinetry. Dark navy and ocean blues are becoming ever more popular for kitchen islands and base cabinets as well as pops of color in fabrics. Jewel tones of garnet, emerald, and sapphire make beautiful backdrops to the warm metals. Gray and white are still the most popular cabinet colors, and as a result, we are seeing new gray washes mixed into stain colors which result in some gorgeous driftwood toned cabinets. Pastel colors in blush and sea glass are also popular and create a very restful space when paired with whites and creams.
We have many of these new finishes on display in our design center and can't wait to help you incorporate the ones you like into your new home!