The kitchen is truly the heart of any home. It's the room where we entertain, have long conversations, and cook the meals that we serve to our friends and family. Because it's such an important space, everyone longs for a beautiful kitchen. One of the easiest ways to make your new kitchen stand out from the rest is with a backsplash, but with all the choices available today, how do you pick the right one?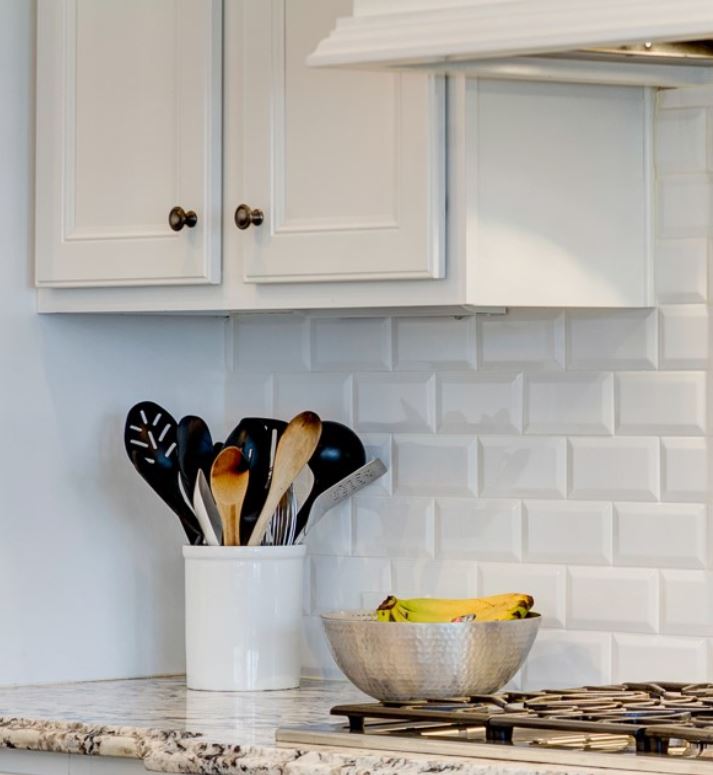 The first step to finding your perfect backsplash is to understand the categories that most options will fall into: porcelain or ceramic tile, glass tile, and stone. Porcelains and ceramics are the most common and include both solid color and patterned tiles. The classic subway tile falls into this category, and is a very good option if you want to add texture to your backsplash without adding a lot of busyness. Subway tiles come in both short and long sizes, matte and glossy finishes, and are available in white, biscuit, linen, light gray, dark gray, and black. The white subway tile also comes in a beveled finish that is a wonderful choice when you have white cabinets and a light top. The white bevel adds a lot of interest without bringing in color.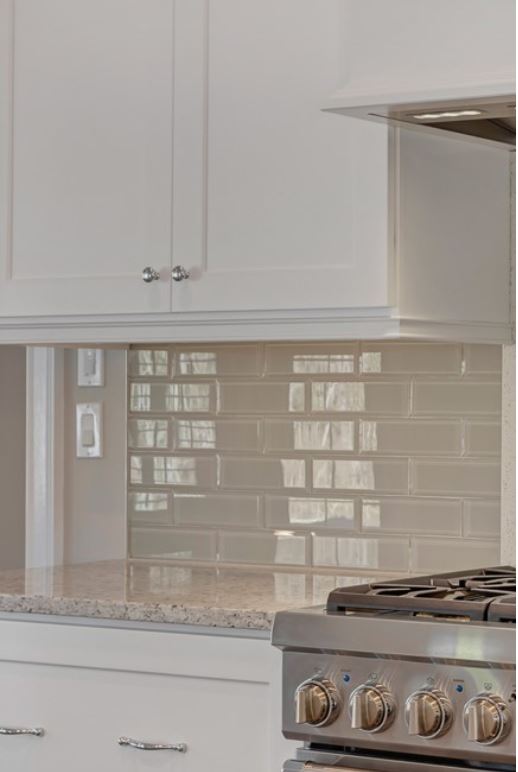 Glass tile comes in several subway tile sizes as well as linear and patterns. Beautifully reflective, this is a great choice if you want to add a bit of sparkle to your kitchen but still keep the colors muted and neutral. For a stronger impact, consider choosing one of the glass patterns like the timeless arabesque or the more modern scallop design. The pale gray tones work very well with white countertops as well as very patterned ones. When you have a quartz or granite that has a lot of movement and pattern in it, the best backsplash choice is often going to be a solid color, and the glass tiles blend beautifully.
The final category of kitchen backsplash is stone. This can be stone tile like travertine or marble, or can include using the same stone from your countertops as a backsplash. A full height quartz or granite backsplash is a show stopper, and is far easier to clean than any tile. This is one of the most expensive ways to do a backsplash, but it definitely pays off in wow factor.
Once you decide which category of backsplash will work best with your cabinets and countertops, the next step is to choose a tile that reflects the design style you want for your kitchen. If you want a classic or timeless feel, then choose a neutral colored tile in a small rectangular shape like 3″x 6″. A beveled tile works very well in a classic design scheme. For a farmhouse look, you can't go wrong with the white or warm gray subway tile. If you want to stay somewhat timeless but are still looking for a twist, try a glass tile or one of the larger rectangle tiles in an unexpected pattern like herringbone. You can also use one of the linear glass patterns or the glass or solid arabesque pattern to bring in more impact without being trendy. Finally, for a more streamlined or modern look, choose a solid colored tile in one of the larger format rectangles or one of the petal or scalloped glass tiles. Metal tile backsplashes are also a good choice for a modern kitchen. We have pictures and links for many options on our backsplash Pinterest board to help you find your favorites.