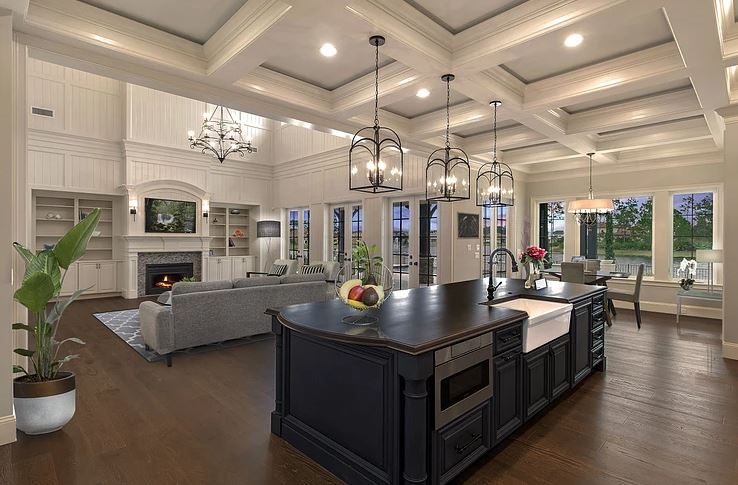 Electrical items are relatively inexpensive yet they can make life in your new home so much easier. We've all experienced the frustration of needing another outlet or having places in a room that are too dark because of lack of light. Our floorplans eliminate these frustrations with lots of recessed can lighting and tons of outlets, but there are a few fun items that might make the way your home functions for you that much better. Here are our top 5 electrical items to consider adding to your new home.
Pendant lights over the island. Pendants are decorative lights that hang down from the ceiling to provide task lighting. We usually use our kitchen islands for prep work, and having that light directed right where you are working and at a lower height makes it easier to see. Most islands are between 7-10′ long, so they can handle two to three pendant lights depending on what size lights you want to install. For example, on an 84″ island, 2 large (12-14″ wide) pendants or 3 small (5-7″ wide) pendants work equally well. Another option is to do one light centered over the island and install a linear fixture to make a strong decorative impact and maximize the light.
Air switch for the disposal. If you have your sink in the island and your island is all one height, there is no place for the disposal switch except under the sink. When you have a farm sink that switch has to go pretty low in the cabinet because of the apron. The air switch goes on the countertop near the faucet and allows you to turn the disposal on and off by pushing a button. No bending over searching for the switch with wet hands!
Switched outlets. All of our homes come with exterior outlets on the front and back porches, so plugging in any Christmas lights or yard inflatables is no problem. However, going outside in the cold to plug in all those cords is never fun, and even the timer devices still leave you with wires and extension cords running everywhere. Placing two or three outlets in the eaves of your home on a switch eliminates these problems. If you use a lot of yard or porch decorations, we also recommend adding an outlet on a switch at the porch down low as well. With this addition, all you need to do is hit one switch in the garage and everything goes on or off. Switched outlets inside the home are convenient for turning on Christmas trees, garlands, decorative lights above cabinets or furniture, and lamps or sconces in bedrooms. Anything that you regularly (or seasonally) plug and unplug would benefit from a switched outlet.
Plugmold. By code, you must have a certain number of outlets in the backsplash area of your kitchen. However, depending on the tile you choose, those outlets might take away from the design you create. Plug mold moves the backsplash outlets into a strip that is installed just underneath your upper cabinets, making it all but invisible. All of your countertop appliances are easily plugged it with the cords up and out of the way, but no big outlets in the middle of your beautiful tile.
Hidden outlets. With so many electronic devices in our homes today, the amount of charging cords can become quite a tangle. Placing outlets in the drawer of a mudroom cabinet, kitchen cabinet, or even in a closet cabinet can be a great way to keep all those cords behind closed doors. Another important place to consider is in the bathrooms. Hair dryers, razors, and curling irons all need to be plugged in, and often the only choice is to have them out on the countertop. By placing an outlet inside the drawer or a countertop cabinet in the bath can give you the flexibility to keep your devices plugged in and your tops free for other things.
During your Design Center Appointment we will discuss these items as well others that will make your life easier!