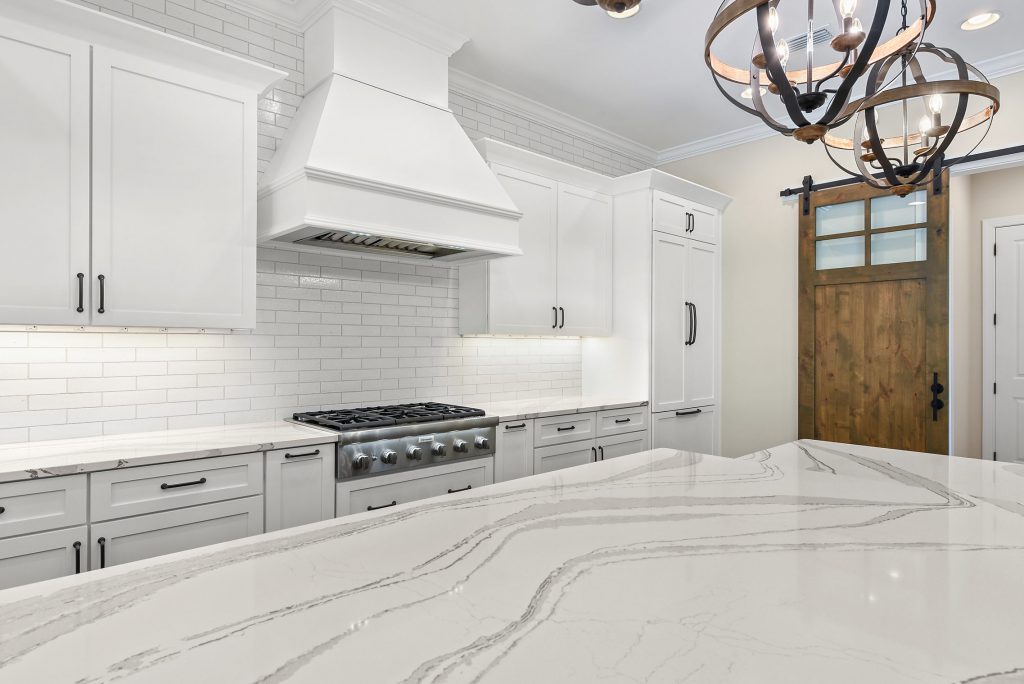 One of the biggest impacts you can have on your new Collins Builders kitchen design is to incorporate a decorative hood over your range or cooktop. A custom hood can instantly create a focal point for the entire space, and provide a sense of luxury in the design. Hoods come in all shapes and sizes, allowing you to customize it to your particular taste and style. Decorative hoods are a design feature that brings a major wow factor.
Chimney Hoods
Chimney hoods are so named because of their narrow pipe cover that creates a chimney look up to the ceiling. These popular hoods are most often found in stainless steel or cabinetry material, and they have several common shapes. For a modern kitchen, consider a combination of glass and stainless steel with minimalist dimensions. For a farmhouse or traditional kitchen, a chimney hood made from cabinetry blends in beautifully while still commanding a presence. You can choose a contrasting color for the hood to make even more of an impact and tie in another color from your cabinetry or decor.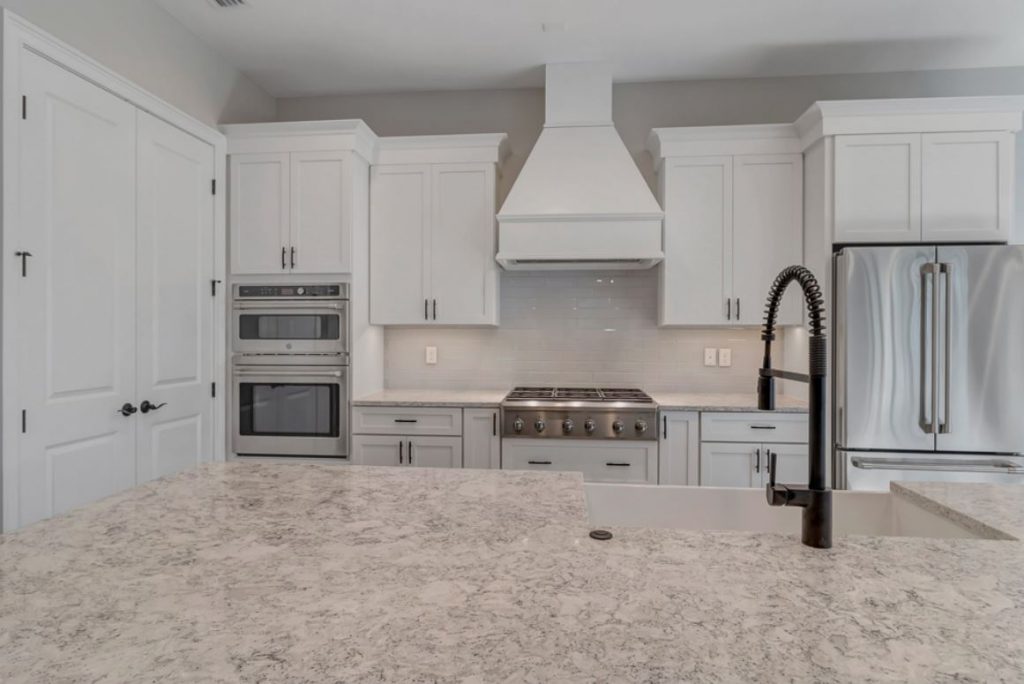 When choosing a chimney hood, it's important to also consider the kitchen backsplash. The backsplash can either stop at the bottom of the hood, go to the ceiling in the hood area, or continue above the tops of the adjacent cabinetry. If you'd like the tile to go to the ceiling, but don't want to run it on top of the cabinets, you add a stacked cabinet on either side of the hood to give the kitchen more visual height and finish off the tile. If you decide on a chimney hood for your new kitchen, we will help you design the rest of the kitchen and its accessories to fit your particular space and style.
Canopy Hoods
Canopy hoods are shaped like an awning and are common in professional appliance families. These large hoods are simple in shape but big on style. Like chimney hoods, these come in metals as well as cabinet finishes, but are most often made in metals to complement your appliances. Canopy hoods have more depth than a chimney hood, and therefore capture more of the steam and smells from your cooktop. For a chic design touch, consider doing a canopy hood in a contrasting metal like copper or brass to highlight other metals in your design. These hoods can be mounted under cabinetry or stand alone, giving you a lot of design flexibility.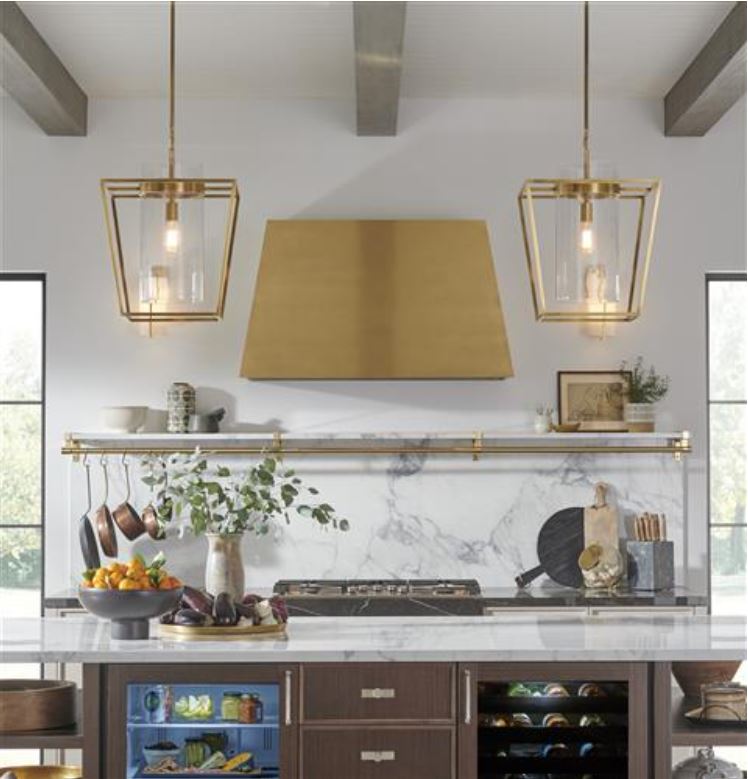 Mantel Hoods
Mantel or hearth hoods are integrated into the cabinetry and made from the same door style and moldings as the rest of the kitchen. These hoods work beautifully in any design, and they allow you to maximize the size of the hood itself for greater impact. There are several types of accessories you can add to these hoods to give you additional design options as well as kitchen organization. Corbels can be added under the hood to accentuate the look without taking up counter space. Columns under the hood are a popular option, as they are the perfect spot for storing spices and oils needed for cooking. When choosing a mantel hood, you want to choose a size that is wider than your cooktop or range. Without columns, we generally recommend a hood 12″ wider than your cooktop, but with columns you might want to go even wider to give plenty of room around the cooking surface.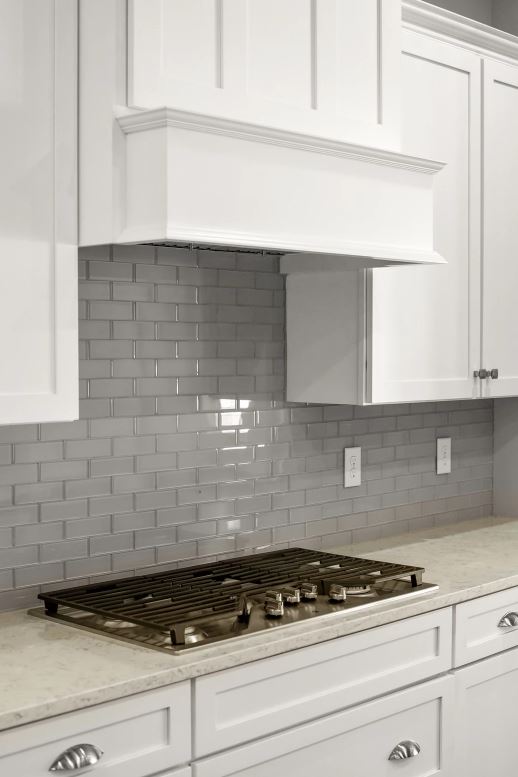 No matter what kind of hood you envision in your dream kitchen, we can help you create it. Whether it's a pre-fabricated design to match your appliances, or a completely custom shape you imagined, we can make your ideal hood a reality. Today more than ever, we want our homes to be both beautiful and functional, and having a dramatic decorative hood at the center of the design will help you accomplish that.