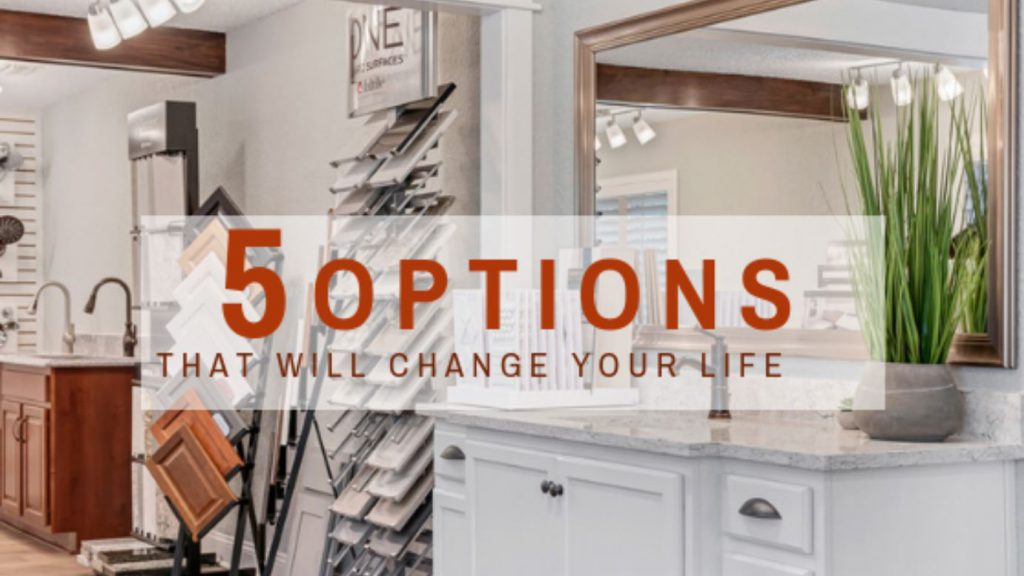 When building a new home, everyone focuses on the big things like how many bedrooms and baths they need, two car versus 3 car garage, etc. And these items are of course, the most important. However, once you have the layout done, did you know there are many small things you can add to your home that will make living that much easier?
Air Switch
Since almost every new home design has moved the kitchen sink to the island and almost every island is flat now, there's no wall or raised bar top to put the disposal switch on. That means it must go inside the sink cabinet under the sink. Now for those families who don't use the disposal often, this is not a problem. But for those that do, having to open your cabinet door with wet hands and bend down to hit the switch each night is not the best arrangement. That's where the air switch comes in. It's a small button that matches the finish of your faucet and is installed on the countertop that you push to turn the disposal on and off. Not only is this much more convenient, but it also saves your cabinet finish from constant water drips.
Induction Cooktops
Up until recently, your only two choices in cooking were gas or electric. Electric cooktops allow you to have a nice, sleek glass top and some even have eliminated the knobs, but they aren't always efficient in heating consistently or quickly. Gas, on the other hand, is known for the precision heat control it provides, but you do have grates to clean and the heat that escapes into your kitchen as a downside. Enter the induction cooktop. Induction causes the pot itself to heat up, not the cooktop which means that if you were to boil your pot over there's no burnt-on residue to clean up, and no hot eyes to keep little fingers away from. Most induction cooktops can boil water within 90 seconds – a huge improvement over electric – yet they still provide the sleek glass top that many people like in their homes. Some of the higher end cooktops even allow for a flush installation with the countertop, so you can make them almost disappear.
Hand Showers
Hand showers are small shower heads that are attached on a metal hose. They can stand alone or be attached to a bar at the main shower head. While they are one of the more expensive items on this list, they give you quite a bit of functionality. Hand showers make cleaning the shower or tub much easier, as you can reach all the corners and walls that a normal shower head can't. They are also great for washing pets, rinsing off feet, and are a quick way to clean a squirmy toddler. When you install them on their own valve, they also function as a second shower head for the shower.
Switched Outlets
Switched outlets allow you to turn on an item that is plugged into the outlet by flipping a switch on the wall. In a bedroom or living room, these are nice to have where a lamp will go so that you can turn them on as you enter a room. However, if you like to decorate with lights or put a Christmas tree in a room, then having a switched outlet can make turning the tree on and off much simpler. You can also put switched outlets on the exterior as well! Placing them in the eaves of the roof are great for Christmas lights, one on the back porch allows for string lights, and also consider putting one or two on the front of the house for other holiday decorations that need to be plugged in. Not having to go out in the cold to plug in several extension cords or deal with setting up multiple timers makes life much easier. Simply flip a switch and you're done.
Additional Bath Cabinets
You can never have too much storage space, and adding a few well-placed cabinets in the bath can really expand your options. If your vanity is large enough, a wall cabinet that sits on the countertop makes finding medicine, makeup, and hair products so much easier. No more bending down and hunting for what you need. Another great place for a cabinet is over a toilet, especially in a master toilet room or powder bath. These areas are perfect for holding extra toilet paper and towels, acting as a linen closet without taking up any extra space.
These small additions can really improve how your home functions and make day to day tasks so much easier. During your design appointment, we can go over these in greater detail and see how we can make your dream home a dream to live in!