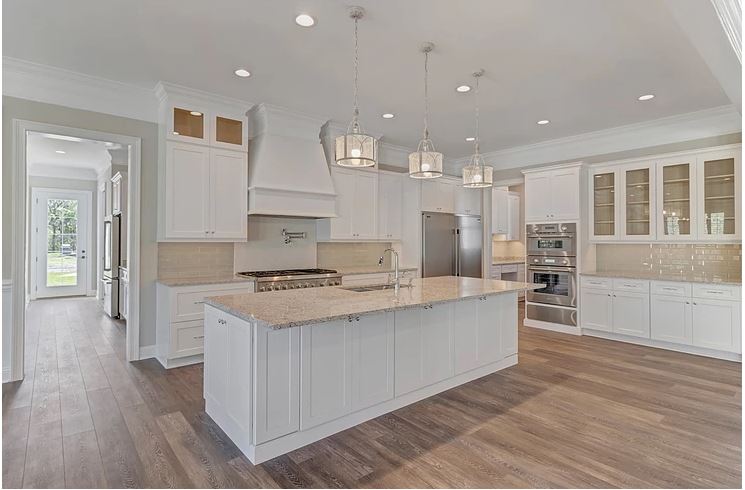 Here at Collins Builders, we have two main types of countertops in our design center: granite and quartz. Both are excellent options, but clients often ask us which one is best for their home. There are a few things to consider to answer this question for yourself, but just know that whichever you choose, you will have a beautiful, durable countertop that will last.
The most common countertop we install is granite. We offer 3 levels of granite in our showroom, but we also can do more exotic granites based on what stone is available during the construction of your home. Granite is a natural stone that is extremely durable. The lower levels of granite have a relatively consistent pattern and color from slab to slab, and come in both light and dark tones. As you move up in levels of granite, the stone itself is just as durable, but the patterns vary more and can require more labor to fabricate the tops as a result. This is often the main reason one kind of granite costs more than another. For our top level granites, we actually will go to the stone yard during the construction of your home to choose the exact slab for your project since they can vary so much from the samples we have. These granites have beautiful veins and markings with many colors that are truly a work of art.
When the granite tops are made, they are sealed with a long lasting sealer that fills in the stone to make it less porous. This is the only upkeep to granite, and it usually only has to be done every 10 years or so. It is also heat resistant, so you can put your dinner directly on the tops without worrying about damage. We recommend granite when you are looking for some movement and pattern to your tops rather than the more solid tones of most quartz. While patterned quartz often mimics natural stone, there is no way to get some of the unique veins and color variations of granites like our Mont Blue in a man made product.
Quartz tops are a fabricated product that are made almost entirely of quartz, which is one of the hardest materials on earth, making these an extremely durable countertop. They are also non-porous and do not require sealing, making them both hygienic and low maintenance. The one downside to quartz is that it is not as heat resistant as granite, so you would want to make sure hot items were not put directly on the top. Similar to granite, the lower levels of quartz are solid colors with little to no pattern. The quartz tops that mimic the pattern and veins of granite or marble are generally in the top level, and each level of quartz will be a little more than the same level of granite.
We recommend choosing a quartz top when you are looking for either a solid color or a truly white background to your tops. There are several quartz options that look like marble, giving you the beauty of that design without the upkeep and delicacy of it. Quartz is also an excellent choice for bath tops to make cleaning and disinfecting a breeze. If you love the look of a different top for your island, then quartz is an easy way to find a complimentary choices that can work together.
Whether you like quartz, granite, or a combination of both, these countertops are very durable and will last the life of your kitchen. They create a beautiful backdrop for all the meals, conversations, and life that happens in our kitchens!