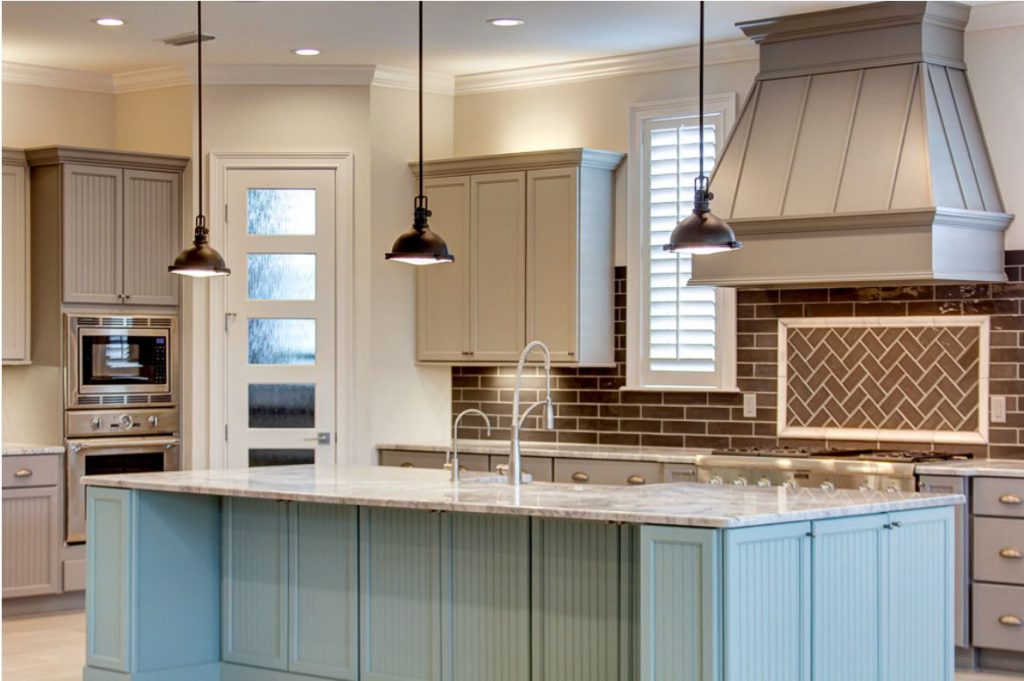 When most people are thinking about how their new home is going to look, they concentrate on things like cabinets, flooring, and plumbing fixtures. While these items are definitely crucial to the overall design of the space and should be the first ones considered, few people ever think about the lighting in their home – one of the things that can truly transform a space.
Lighting can be broken down into 2 categories: utility lighting and decorative fixtures. Utility lighting is all the items like recessed cans, under cabinet lights, and fluorescent fixtures. During your design appointment, we spend time discussing the utility lighting in your home to make sure it meets your needs. The more you can think through how you will use the rooms in your home, the better we can make sure the lighting will be where you need it. For example, is the back bedroom going to function as a craft or sewing room? We would want to consider recessed can lighting over your work space to make sure that you can really see what you are working on. Do you like to do a lot of cooking? Then under cabinet lighting might be a good choice to light up your prep space. Some people prefer recessed cans to fluorescent fixtures, and others need large fluorescent lights to illuminate their garage shops. Whatever you want to do in your space, the right lighting is key.
Decorative fixtures are the jewelry of the home. They can dress a space up, or make it more casual. Unique lighting is often what makes a custom home feel truly custom and keeps your space from looking like everyone else's. Decorative lights make an enormous visual impact, and effectively pull the design scheme together. Consider setting aside some of your interior budget for lighting fixtures, and you'll be amazed at how polished and custom your home feels when it is done. Today's open floorplans actually have less areas for these fixtures, so often your only larger (and therefore more expensive) fixtures are the dining room and nook. If your home has a two-story foyer then you have the perfect spot for a large statement light. These two-story fixtures can be hard to clean and change out bulbs on, so a light lift can save the day. These are motors installed above the light that are controlled by a switch on the first floor and raise and lower the light for you. The other decorative lights for vanities and bedrooms are not very expensive and really make your bathroom special.
With all the lighting options available, choosing your decorative lights can seem daunting. However, the most important thing to think about is your personal style, and then together we can find the selections that are perfect for your home and what you have already selected. We like to do the decorative lighting selections last for this reason – once you have the "bones" of the design together, the fixtures are much easier to select. Progress Lighting has a wonderful Inspiration tab on their site that has curated fixtures and fans based on several different design styles. We also have many unique fixtures on the Lighting board on Pinterest to help you narrow down what you like.
Few things make a design come together like decorative lighting, and having the right task lighting for your needs is part of the beauty of building a custom home. In the same way that jewelry can change the look of an outfit, the lighting choices for your home can help you create that designer look. We can't wait to work with you to create a lighting package for your home that is truly unique!