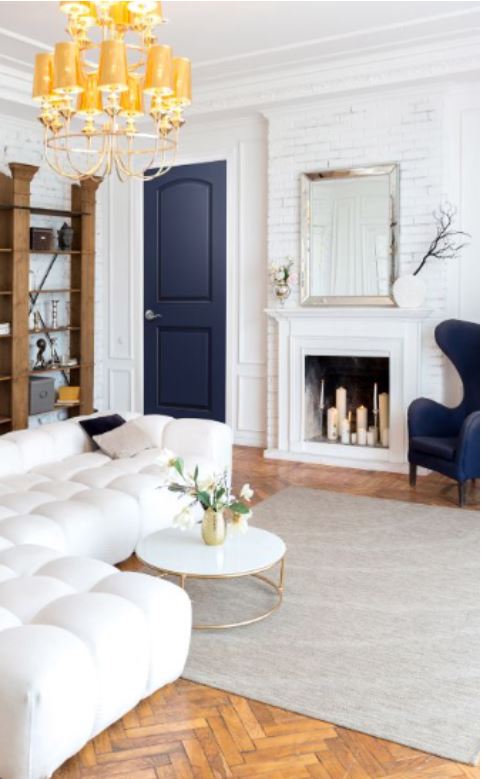 We all know what a difference the right front door color can have on the curb appeal of a new custom home. You can achieve the same significant design impact on the inside of your home by changing the color of your doors. Framed by crisp white trim, a door in a contrasting color really makes a statement!
The color of the door starts with the material the door is made from. Most doors are a composite material that works perfect for a painted finish. Be sure you choose a smooth door rather than a textured door to benefit most from a new paint color. Popular smooth style doors are the Roman, 2 panel Square, Riverside, Livingston, and Winslow. For more information, take a look at our post on interior doors.
Once you have the door style selected, it's time to narrow down a paint color. Dark doors will give the most contrast, and often provide an elegant but modern feel. Bright colors add energy to your room with a playful touch. Soft pastels feel peaceful and breezy.
For a farmhouse look, try SW 6258 Tricorn Black, SW 7674 Peppercorn, or SW 7064 Passive. Coastal homes can use favorites like SW 9178 In the Navy, SW 9149 Inky Blue, or SW 6219 Rain. Whatever your style, blues, grays, black, and greens are neutral colors that can blend with your other furnishings.
Another option for a contrasting door is to use stained wood doors instead of painted composite doors. Wood doors have the added benefit of being solid core, so they help with sound as well. Wood doors come in a variety of species and styles, and add warmth to any design. Rustic alder shows natural knots and splits in the wood and is an excellent choice for a farmhouse. Rich mahogany has a beautiful grain that works in any home.
When choosing a stain color for a wood door, consider any other wood elements in your home. If you have a LVP or wood plank floor, it is often best to match or coordinate the wood doors to the floor. When deciding on the species and stain, keep in mind that the lighter the stain, the more of the natural wood grain will show through. Our favorite stains are Cooper Brown, Walnut, and English Chestnut.
Incorporating stained and painted interior doors adds another dimension to your new home design. This contrast is a great way to show your personality and further customize your home to your exact style. With all of the different materials, styles, and colors available, the selections we have for you are virtually limitless, and we here at Collins Builders are here to help you narrow them down to the perfect one for your new custom home!