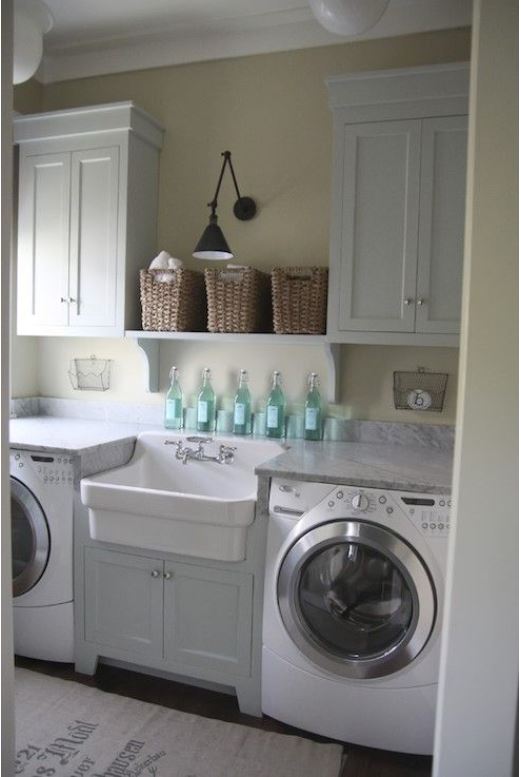 While few people actually enjoy doing the laundry, having an organized and beautiful place to wash clothes can make it feel less like a chore. Fun patterned floors and uniquely colored cabinets go a long way towards creating a beautiful space, but the proper storage gives you the tools to get the job done quickly. Whether you have a spacious laundry room or a small laundry closet, the right storage makes all the difference.
Storage for Supplies
Since the primary function of any laundry area is to wash clothes, you want to have a place for your detergents and softeners that is easily accessible to the washer and dryer. Solid shelving provides a good and strong surface for the bottles to rest on. Floating wood shelves provide a design element while giving you a great surface for storage. Baskets can keep your bottles organized, or decorative jars can house pods of detergent. If your home has 9′ or taller ceilings, you have room for 2 shelves, doubling the storage space. Use the top shelf for less used items like batteries, extra dust rags, etc. Store these in decorative baskets as well to keep them organized, while also adding to the design of the room.
For a more streamlined look, consider adding upper cabinets over the washer and dryer to keep needed items behind closed doors. Increasing the depth of the cabinets to 15 or 18 inches makes them more accessible and creates a more built-in look to the appliances. You can also add panels to the sides of the cabinetry to box in the washer and dryer. If you have a front-loading washing machine, raising the appliances up gives you storage underneath and keeps you from having to bend down to remove the clothes. Most manufacturers make a pedestal drawer that matches the washer and dryer, or we can build a platform with custom storage below to complete the built-in look. These drawers are perfect for larger items like dog food bags and beach towels.
Laundry Storage
Now that you have a place for all your supplies, it's time to consider how to house all the laundry in the space. For dirty items that you want to stage in the laundry room, you can add a countertop over an open space to house the hampers, while giving you a folding surface for clean clothes. Another option is fold out hampers in a linen tower, or pull out hampers in a base cabinet to keep the items hidden. Having a dedicated spot for dirty clothes inside the laundry is especially helpful for sports uniforms or gym clothes. This keeps the more heavily soiled items out of your closet where your clean clothes are.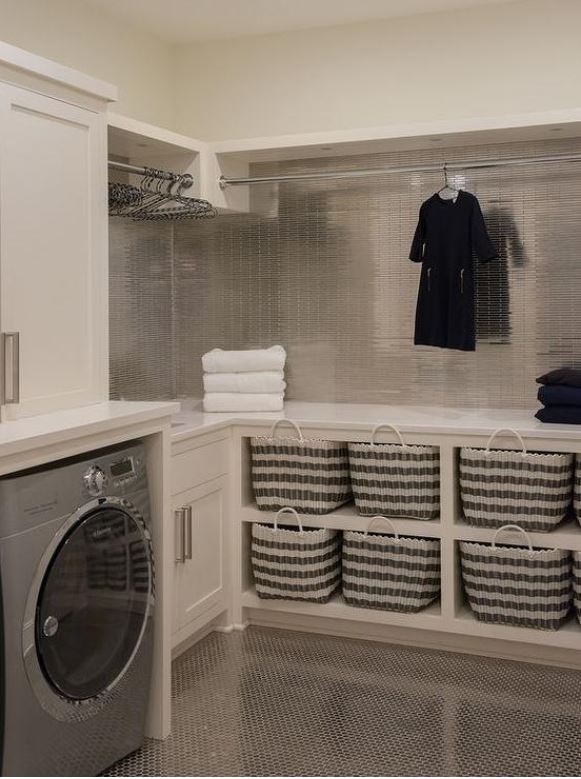 With our busy schedules today, it's often not possible to fold and put away the laundry as soon as it's done in the dryer. Having a place in the laundry room to fold and store the clean laundry until we are ready to put it away makes it much less of a chore. We recommend including a small rod over the washing machine or sink for items that can't go in the dryer. For items that have to be laid flat to dry, consider roll out drying racks in a base cabinet for easy storage.
Another important consideration is a place to fold the laundry. A small countertop located near the dryer is helpful to easily fold items as you remove them from the dryer. Once folded, having a space to store clean clothes until they are ready to be put away is a lifesaver. Deep shelving allows you to place a basket for each person's clean items that they can grab later to put away. If your laundry room has space for an island, you can place the baskets in the island and use the top for folding.
While often overlooked, the proper laundry room storage can make the daily chores in your home much easier. Using colors that make you happy, and incorporating pretty storage containers, will make it a room you enjoy rather than dread. When designing and building a custom home, you have the freedom and flexibility to create a laundry area that fits your exact needs and lifestyle, and we at Collins Builders are happy to walk you through the process step by step. Whether you have a small space or a full laundry room, thinking through the right solutions will make doing the laundry efficient and easy, getting you back to the activities you love quickly!