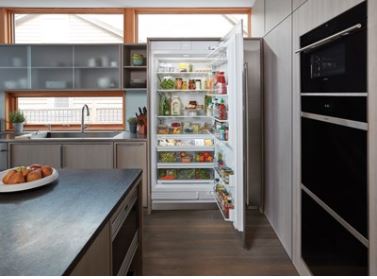 The refrigerator is perhaps the most used appliance in your home, and as such, it's essential to be sure the unit you choose will perform for your family. There are several different configurations available: side by side, French Door, full depth, counter depth, columns, and built-in models. Built-in refrigerators have some unique advantages that might make them the ideal fit for your needs.
Size
The most significant advantage a built-in refrigerator provides is the ability to increase your storage space dramatically. Side by side configurations is available in 36″, 42″, and 48″ wide versions that are 84″ tall, ranging from 20 to 29.5 cubic feet of capacity. Columns are refrigerator or freezer units ranging from 18″-36″ wide and are also 84″ tall. These units allow you to create as much refrigerator/freezer space as your room will permit. The extra-tall height of built-in units also helps to fill the space in today's taller ceilings visually.
Luxury Appointments
Built-in refrigerators are brimming with opulent details that not only provide functionality but are also beautiful. Metal door bins on the Monogram series use the same materials as Learjets that harden when placed under cold temperatures. Glass shelves are lit on all four sides with LED lighting to illuminate the entire interior. Many are coated with a hydrophobic product that keeps spills on the shelf while eliminating the need for a lip. Climate control drawers allow you to thaw frozen meat, quick chill wine bottles, or keep produce at the perfect temperature, all with the touch of a button. Monogram even offers a night mode that programs the refrigerator lights to 30% brightness after a specific time so that your late-night snack isn't blinding. These touches of luxury and high-end materials make the user experience enjoyable and the unit function at the top level.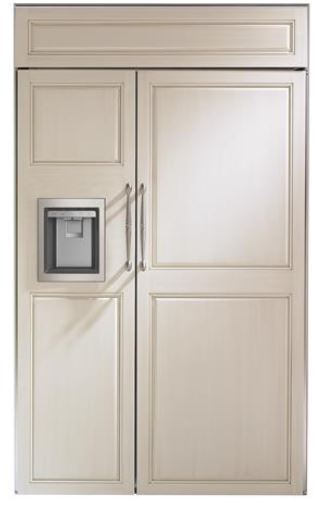 Design Flexibility
Today's kitchens are the centerpiece of any home. At Collins Builders, our clients want their kitchens to be beautiful and customized to their precise needs. Using built-in column refrigeration gives us the flexibility to locate the units or units wherever they work best for you. Columns can be put together or separated as the design dictates. They can also help us create a specific look that our client is after. Paneled units blend into the other cabinets seamlessly, and can be customized to fit any style. These units genuinely free you to design the perfect kitchen for your needs.
The kitchen and its appliances are among the most significant expenses in designing any home. Choosing a refrigeration system that will last for decades and fulfills your needs is key to creating your custom dream kitchen. At Collins Builders, we work with each client to find the exact fit for their budget and design style, and we have access to the top appliance manufacturers today. A built-in refrigerator could be the answer to your new custom home and your gorgeous new kitchen. We can't wait to help you design it!