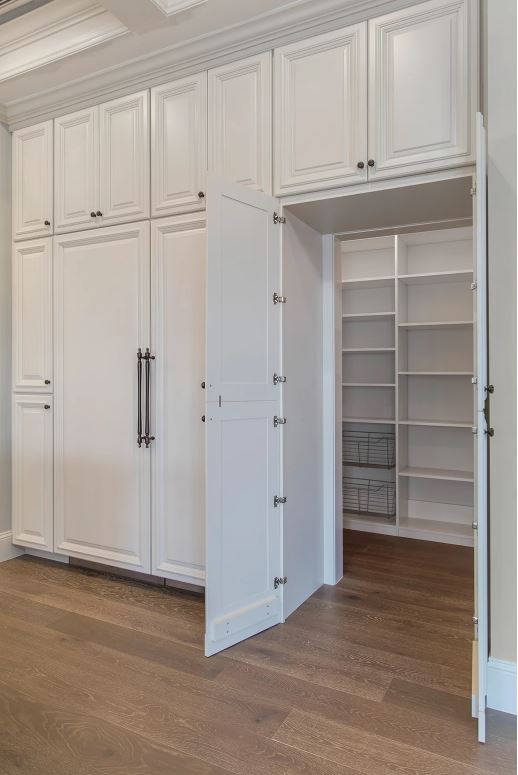 A spacious pantry is on the list for most of our clients when it comes to their needs for a new home. It's essential to consider your family's storage needs for bulk purchases and weekly grocery runs when creating your new custom kitchen. Walk-in pantries are a staple of the homes we design at Collins Builders, and when combined with innovative storage and features, it just might become one of your favorite spots in your home!
One of the most popular trends in kitchen design is to "hide" as many useful parts of the kitchen as possible. Appliances are now available in flush installations that minimize their presence, with refrigerators and dishwashers often covered in cabinet panels. Hidden pantry doors go along with this trend and create an entrance to the pantry that looks like a cabinet. This particular feature requires a specific design arrangement, so if a hidden pantry is high on your custom dream home list, we start there to incorporate it seamlessly into the kitchen layout.
Another emerging trend is to create pantry shelving that mimics traditional cabinetry. Rather than the floor to ceiling shelves that are all the same depth, we separate the top and bottom sections. Installing deeper shelves on the bottom with a continuous top creates a cabinet look and gives you room to add pull out baskets or drawers for more efficient organization. The countertop area is perfect for housing small appliances like a microwave, blender, or crockpot, and many of our clients add extra outlets in this area so that these appliances can be used right where they are stored. The top section can then be filled with shelves with or without doors for more traditional food storage.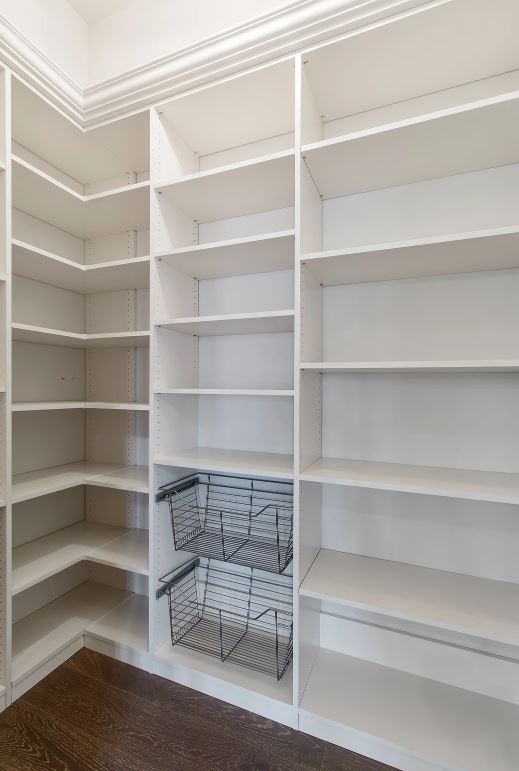 Many pantries are now expanding from simple food storage to space for food preparation as well. Combining the idea of a butler's pantry with a food pantry allows you to incorporate a sink, freezer space, or even a second dishwasher with your appliance and food storage. If this multi-purpose pantry idea works for you, consider adding in task lighting under the shelving to provide additional light where you need it. Shallow racks of shelving or pull out drawers are a great way to organize spices and canned goods while keeping them near the cooking zone for easy access. These expanded pantries are also helpful for storing bulk purchases of paper goods and food, or as overflow for stocked items.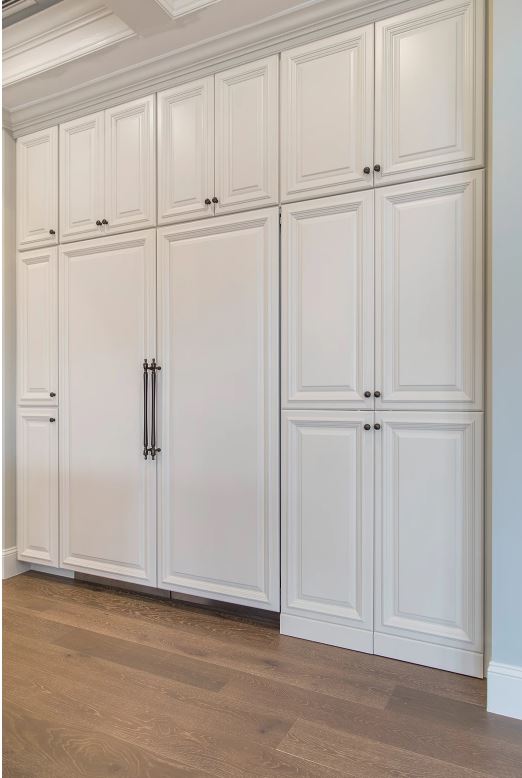 The beauty of building a custom home with Collins Builders is we design each space to suit your family's needs. The pantry is a workhorse in your home and, as such, can benefit from some design planning. These innovative new ideas for pantries can make them function incredibly well while adding an element of design to your new kitchen.
We at Collins Builders look forward to helping you create the perfect pantry for your food storage and preparation needs!