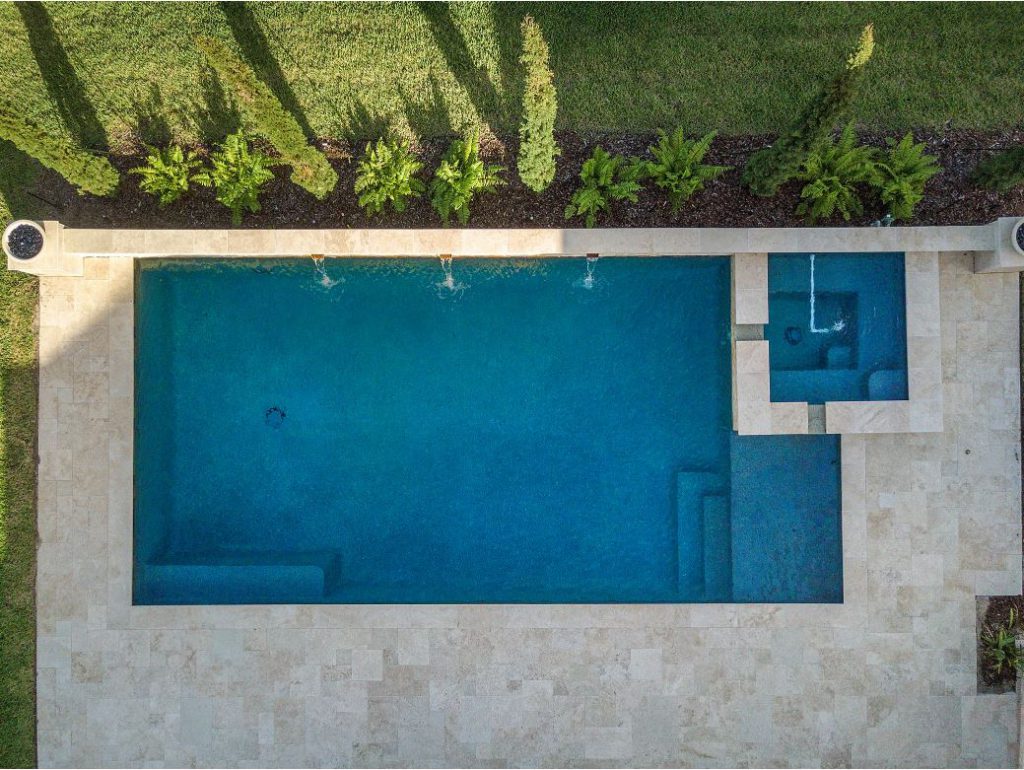 The almost year round warm weather here in Florida has many of our clients choosing to install a pool with their new home. Besides the obvious fun that a pool provides, it also add another design element to your home's exterior, making the design of the pool an important part of the overall selection process. You want to coordinate the pavers and the water tile to the style and colors of your home, but there are also options you can include in the pool design that will make it stand out in your backyard.
Water Features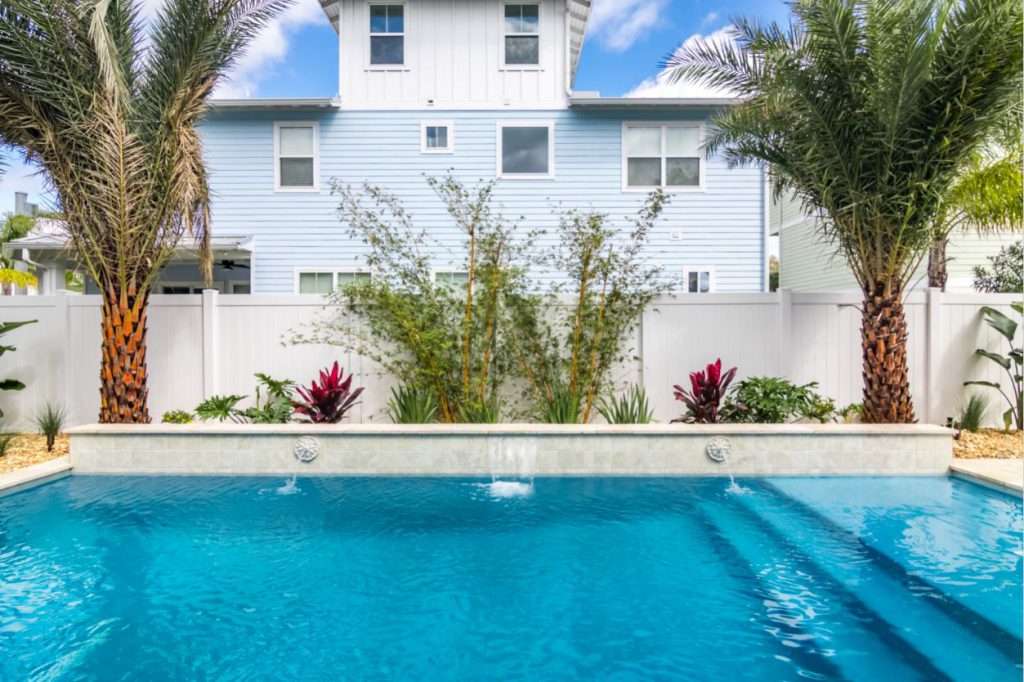 Adding a water feature to your pool is one of the best ways to create a design element outdoors. Deck jets placed on the pool deck send streams of water into the pool, and at night they light up to form a beautiful display. If you plan to add a spa to the pool, consider adding lighting to the spillway. For pools without a spa, you can create a raised wall with a fountain that adds both sound and visual enhancement to the pool. Bubblers are small jets in the floor of the pool that create a bubbling fountain feature that is perfect when placed in front of a door or window.
Pool Color

The interior of the pool will be coated with an aggregate product that is tinted in one of several varying shades to create a specific water color. Most water colors range in a blue or green spectrum, but some owners choose a sand color for the sunshelf or beach entry areas to mimic the look of a true beach. As the depth of the pool increases, so does the depth of the water color. For green hues, choose an aggregate with either tan, brown, or green background colors. Green pools work well with sandy colored exteriors, and complement a backyard full of greenery. For a blue water color, choose a black, white, gray, or blue aggregate. Black aggregate produces a very deep moody blue that works perfectly with a pool near the river, where white aggregate creates a pale Caribbean blue that sparkles in the sun. Both are excellent choices for a contemporary home. French gray is a popular choice for white or gray homes as it gives a beautiful deep blue tint to the water.
Accent Planters

Adding an unexpected element of plantings or fire to the corner of the pool makes a dramatic statement. These boxes can be raised up off the deck to give height or set down off a step for a more minimalist design. If you create planter boxes, you can change the flowers out to match the seasons, or choose evergreen shrubs that complement your landscaping. Fire pits at the pool are beautiful day or night, and add a bold design element. These boxes are filled with glass chips that can be matched to the color of your exterior, and the gas fire can be easily turned on or off with the gas controls.
Whether you choose to include one or all of the design features above, creating a show-stopping pool adds beauty to both your exterior and interior spaces. Water features are a lot of fun to enjoy while in the pool, and at night transform into liquid art work. Dramatic fire displays are gorgeous inside or out, and create the perfect setting for a summer evening outdoors. If your plans for your new home include a pool, we will walk with you each step of the way to help you create a stunning pool design that perfectly complements your property, architecture, and entertaining needs!